---
We here at Cascade Guides & Outfitters are fortunate to have 100 lakes and 450 miles of diverse rivers and streams within 1 hour of the Hook Fly Shop in Sunriver.  Something is always fishing good!  Check our Fishing Report or give us a call for what's hot.
Deschutes: Little Lava-Crane Prairie
With its headwaters flowing out of Little Lava Lake, the upper section is the only free flowing section of the Deschutes. A very wadeable freestone stream; it cascades down for 8 miles before flowing into Crane Prairie Reservoir. 
Dry fly fishing prevails here in the shallow fast flowing waters. Very accessible, the Upper Deschutes offers high mountain remote stream fishing where big Brook Trout and wild Rainbows live.
---
Deschutes: Crane Prairie-Wickiup
This short section of the Deschutes is steep and littered with down logs and ledges.  It can be physically demanding and the fishing is sort of technical.  With that said; this area has a reputation for holding big Brown Trout and Rainbows!
Nymphing is the preferred method, but streamers and dry flies also can be productive.  Bring heavy tippet and be prepared to donate a few flies to the logs.
---
Deschutes: Wickiup-Benham 
The tailwater emanating from Wickiup Reservoir and flows through Sunriver provides the angler the opportunity to fish the Deschutes River from our drift boats. This is the only part of the Deschutes that you can fish from a boat.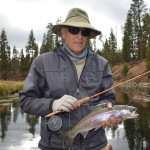 On this section we offer our CLASSIC FLOAT TRIP. Fishing from wooden drift boat using bamboo rods, antique reels with silk style lines. This afternoon/evening drift trip provides dry fly fishing to rising trout. 
---
The Fall River
This spring-fed creek runs for 10 miles before joining the Deschutes. Located just 15 minutes from The Hook Fly Shop in Sunriver, this one of kind river runs clear, cold, and true year round. Open all year – excellent opportunities for a quiet, away-from-the-crowds experience. The Fall provides fishing opportunities bankside or wading with extreme presentation requirements. Midges and small flies are the key on the Fall River to experience the selective Rainbows ranging from 12-20+ inches. We carry a special selection of flies just for the Fall River at The Hook Fly Shop.  Stop by and ask us.
---
Crooked River
This river is a year round fly fishing opportunity. The Crooked is unique in its own way.  Located on the high desert plain, buried deep in a spectacular gorge, the Crooked offers 8 miles of tailwater fishing. At each bend in the river – riffles, pocket water, runs, and flats abound. The native Redside Rainbows are all wild fish and can provide a day of non-stop action.
Cascade Guides & Outfitters regularly runs our Fishing 101 school on the Crooked and offers guides trips on a full or half day basis on this unique, beautiful, and productive river.
---
Full day or half day trip?  Not sure what trip is best for you?  No worries… call us to discuss your fishing trip ideas and questions.   1-888-230-4665.  We will listen to you and based on your desired outcome we will build an itinerary that delivers results.
Ready to book your trip?  Book online or call us to discuss details and book directly with our professional staff.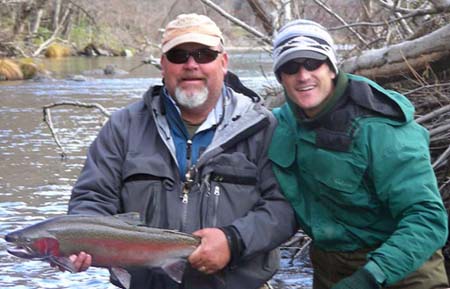 Winter Fishing
Year-round fishing opportunities provide a quiet and private fishing adventure when the crowds are away and the fish are hungry!
Call us at 1-888-230-4665.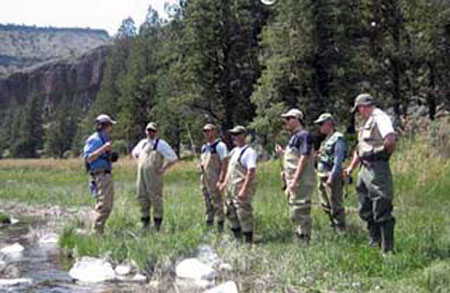 Group and Family Friendly Guide Trips
Book a guided fishing trip for your group or family with Cascade Guides & Outfitters.  Book now or call us for more details.
1-888-230-4665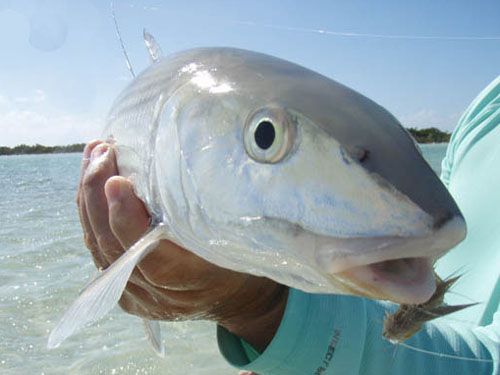 Want a bigger adventure?  Try Bone Fishing in the Bahamas or chasing King Salmon in Chili.  Join us in 2017 for a travel fishing expedition you'll never forget.
Awesome morning!
My 9 year old son, father in-law, brother in-law, and myself were all first time fly fishermen! We decided to take a 1/2 day guided trip to hopefully learn how to fly fish! Our guide did a great job balancing instruction with just getting us fishing! He was patient and positive with all of us rookies but especially, my son! What a great time!
Dan A.
The Hook Fly Shop is Your Full Service Fly Fishing Shop
Don't forget, we ship FREE to anywhere in the Continental U.S. on orders over $100, and NO sales tax in Oregon.
Contact Us